Kyoorius Advertising Awards
Radio & Audio
Radio & Audio Craft > Sound Design Or Use Of Music
KYOORIUS ADVERTISING AWARDS - Radio & Audio (Radio & Audio Craft > Sound Design Or Use Of Music)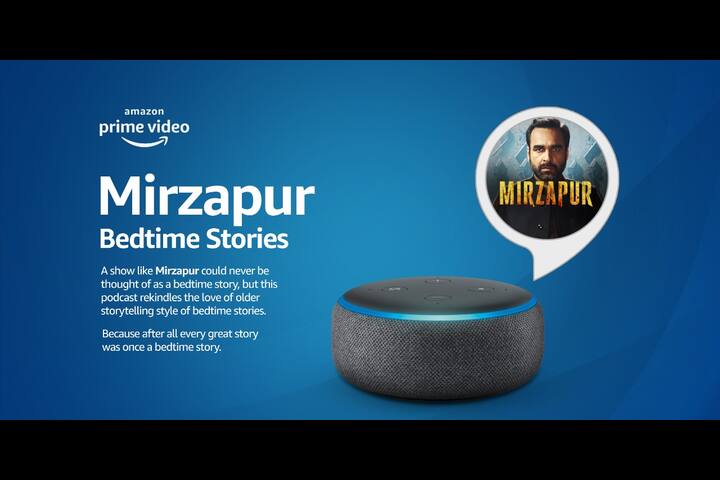 JPEG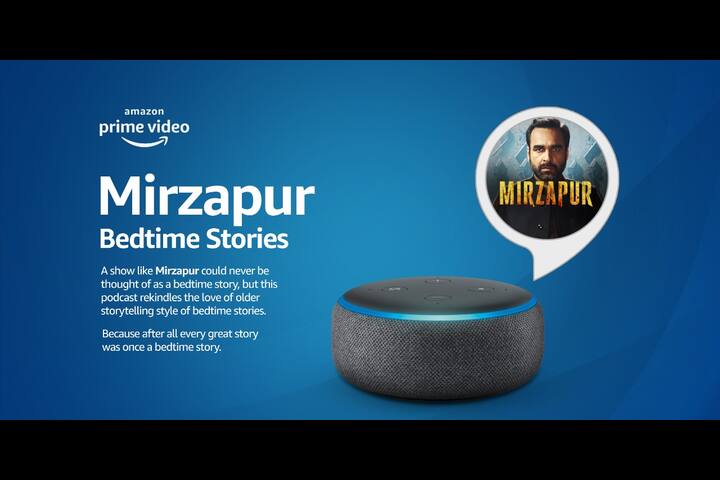 MP3
Mirzapur Bedtime Stories - Amazon Prime Video
Client: Sushant Naik
Entrant: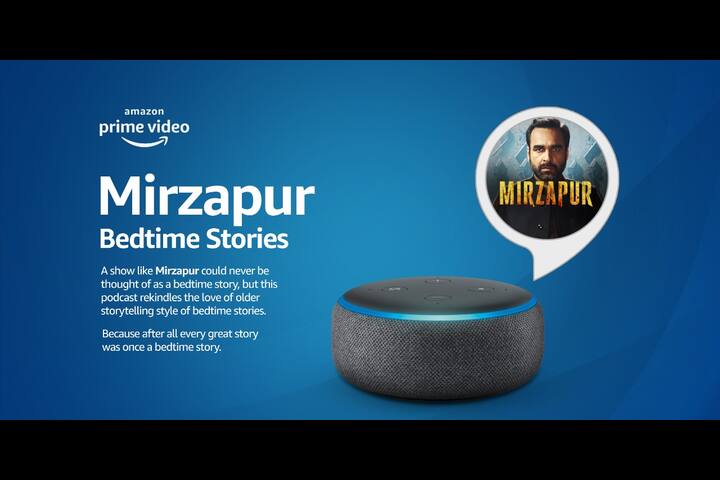 Baby Blue Elephant
Entry Title:
Mirzapur Bedtime Stories
Brand:
Amazon Prime Video
Client:
Sushant Naik
Description:
Amazon Prime Video's Mirzapur Season 1 turned out to be one of the most loved shows in India. However before the launch of Season 2, Amazon Prime Video wanted to recap the bhukaal of Mirzapur in a unique way.

Through that was born an immersive, first-of-its-kind podcast series called – Mirzapur Bedtime Stories. The podcast brought back the magic of our beloved childhood bedtime stories, but this time with it's own twist.

The entire audio experience was brought alive in the voice of the narrator, intercut with actual dialogues from the show. This was further enhanced by true to life SFX, and Mirzapur's iconic spine-chilling score that added to the atmosphere of each episode.

The series was released exclusively on Alexa and can be accessed through a simple command - "Alexa open the Mirzapur skill". Making this a one of a kind Alexa presented audio only show experience.
English Translation:
When people move out of their hometown,
they leave behind their old lifestyle, their childhood friends and their ancestral home.
What stays with them are just the memories.
Memories that keep bringing them back home.

But my hometown?….It was a little different,
Every time I think back to those old days
I think of only one thing, thank god,
I left that city and that life behind.

You know every city in India has its own charm,
They all are known for different things,
From historical monuments,
To delicious regional cuisines to just the unique weather

But like I said….my hometown Mirzapur, that was a little different.
It was infamous all over the country because of Kaleen.
Kaleen Bhaiya - The king of Mirzapur.

He was given the title of the King of Mirzapur,
By his own father Satyanand Tripathi.

He was the godfather of my old town,
People who were close to him were untouchable, even by the authorities.

The infamous Tripathi family was involved in every kind of illegal racket,
From selling guns to young kids, to getting people addicted to hashish,
They did it all, and without an ounce of shame.

While, Kaleen Bhaiya was a king,
The one place where he could never rule was in the bedroom.

(Dialogue snippet:
Beena: You can barely get it up anyway.
And when you do manage it, I am left panting like a bitch in heat.
Kaleen Bhaiya: In heat, are you? Shall I leave you in a brothel then?)

Apart from his wife, one more problem that kept him up at nights was his son,
21-year old, Munna Tripathi. The so-called prince of Mirzapur.

Munna Bhaiya lost his mother, Kaleen Bhaiya's first wife at an early age.
He couldn't let go of that pain,
And in turn he would put people through his own kind of pain.
Most of it directed towards those who couldn't fight back.

And when not harassing people, he would spend all his time doing drugs with his closest friend, Compounder.

Munna Bhaiya was a student at Gajumal College.
While academics never suited him
His obsession and deep seated infatuation for one of the other students, a girl by the name of Sweety, knew no bounds.

Unfortunately, Sweety didn't share the same feelings.
She instead was attracted to Guddu Pandit.
A handsome albeit dim witted hunk who studied at their college.
Guddu was preparing to participate in the biggest bodybuilding state championship the -Mr. Purvanchal contest.

Guddu was enamored by Munna Bhaiya, and hoped to be a popular figure,
just like the city's prince, Munna and it's king, Kaleen
But he wasn't just looking for popularity, he also wanted to be respected and feared,



While Guddu spent all his time dreaming about making it big, sometimes quite literally,
his younger brother, Bablu had simpler and humbler plans for his life.
He wanted to be an IAS officer and decided to fall in love with his books, instead of the girls at his college.

Both Guddu and Bablu belonged to your average Indian middle class family.
Their father, Ramakant Pandit was an honorable lawyer.
Their mother, Vasudha, a loving homemaker.
And the youngest of the lot, their sister, Dimpi was a fellow student in their college.

But one fateful night everything changed in their lives.
Under the influence, Munna Bhaiya while dancing shot and killed a groom,
at his own wedding

Taking up the fight against the reigning terrors of the Tripathi family,
was none other than the very righteous, Ramakant Pandit.
Munna got wind of this and the case filed against him by Ramakant and
decided to take things into his own hands.
So he went to the Pandit's home to meet Ramakant Pandit and teach him a lesson.

(Dialogue snippet:
Munna bhaiya: Oh Hello aunty, is Ramakant uncle home?!)

To save their family from the imminent danger of Munna and his fellow goons
Guddu & Babloo fought them off making sure to give them a thrashing, they'd remember.
Something that no one had ever dared to do to Munna in Mirzapur.
The incident got them an invite to meet with Kaleen Bhaiya.


The brothers wondered what fate awaited them
What happens when you raise your hand at the prince of Mirzapur?
Was it the end of life, as they knew it?

And this is where our first episode of the Mirzapur podcast comes to an end.
Thank you for listening.

If you want to listen to the remaining 8 episodes,
Give a simple command to your Alexa device: "Alexa open the Mirzapur skill."
And select bedtime stories.

Happy Listening.
Company Credits:
Amazon Prime Video India
Company Credits:
Schbang Digital Solutions Pvt. Ltd.